This post is about a potentially sensitive subject, so I appologize in advance if I inadvertently say something offensive.
I first saw the story about Burger King redesigning the covers of its ice cream cones at the
Religious Policeman
blog. He covered it pretty well, so I didn't have anything to add.
But now the story has run in the
Emirates Today
, and I am even more confused.
---
Burger King scraps `Allah ice cream lids'
A UAE-based Islamic scholar says muslims who forced Burger King to remove a religious-like logo from their ice cream are "over-sensitive".
The fast-food giant was forced to scrap batches of BK Cones after a UK-only design on the lid was virtually identical to the word "Allah" written in Arabic.
OK, wait. "Virtually identical?" Here are the two pictures, you tell me:
Even this is distorting the similarity. It really should be shown like this: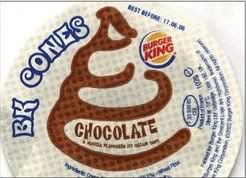 So, either I don't understand what virtually identical means, or the writer doesn't.
Dr Fouad Al Araji, 65, an Iraqi-born British citizen who teaches Islamic Studies at the American University in Dubai, said those who made the complaints that led to the product being scrapped were "taking it too far" and that the symbol on the product could even help promote Islam.
"So what if the name of Allah is on the lid? This is good propaganda for Muslims all over the world. Ice cream is something enjoyable that children love. If the name of Allah was used as an advertisement, that is another story. But, in this case, I see no harm in it at all." After dozens of complaints from enraged Muslims and a threats of Jihad from one Muslim, Burger King is now spending thousands of pounds to redesign the lid and to pull the offending lids off their counters.
Inyat Bunglawala, a Pakistani from the media committee of the Muslim Council of Britain, said his organisation had nothing to do with the complaint.
"In our opinion, the lid does not influence many British Muslims, but we do commend BK and appreciate the speed in which action was taken to solve the issue."
What issue? I don't understand. The Muslim scholar the paper quotes says that the people who are complaining are wrong. Isn't their misunderstanding the issue? Why is Burger King supposed to accomodate them?
If it wasn't for the fact that violence was at least implied, this would almost sound like an
Emily Litella
skit from Saturday Night Live.
I have no doubt that Muslims in Britain face all sorts of serious problems and discrimination, especially after the bombings this summer. I'm sure that many people are unfairly suspicious of all Muslims because of the acts of a few. But it seems to me that complaining about things like this is only going to make fair-minded people regard other complaints less seriously.