Murabbaa Roundabout
This is often called the Coffee Pot Roundabout, but it is actually labelled Al Murabbaa, which is also the name of the district that it is in. I first saw this on the
cover of this map
that I bought before I came here. Murabbaa is in the town center, and the roundabout joins the street that Al Ain Mall is on to the streets that have the livestock market and the fruit and vegetable souk, so you could say that joins old and new Al Ain. Here it is
on the wikimapia satellite map
:
As you can see on the map and the satellite, the roundabout used to have grass. At this time, there is just sand though, and to be honest, it looks a little sad.
The art in the middle is the traditional Arabic coffee pot and small cups, symbolic of hospitality.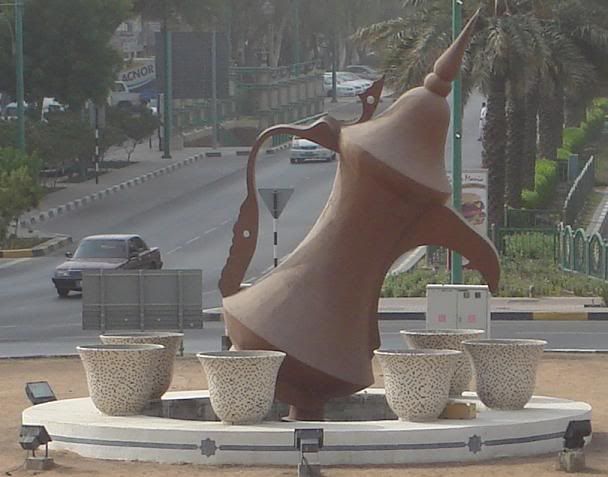 I really like the speckled effect on the cups that is created with small ceramic tiles. I also like the way that the 8-pointed stars (which show up a lot as decorations here) and line around the base make a subtle addition to the entire design.
Part of me wishes that the coffee pot looked more like brass and not so much like cement painted brown. But I do like that the designers did not make the pot pouring water into a cup. One last thing about the pot: either they wash this thing frequently or they have somehow figured out how to keep pidgeons off of this, because there are none of the usual reminders that they leave behind.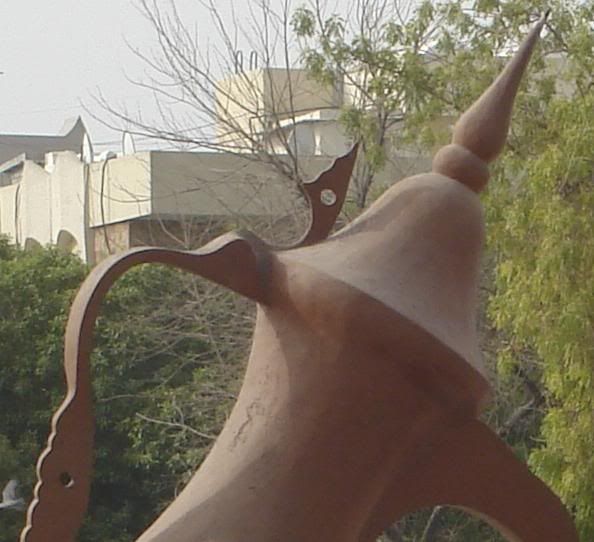 Last thing that I noticed from the first picture: I almost had a picture of a roundabout where everyone was in their lane, but this guy had to blow it.