So, you ever have one of those days when everything goes exactly like you planned, except for one thing? When I got up this morning, I knew what I wanted to do. Get up early, go take some pictures of a few roundabouts before traffic gets too bad, come home, eat some breakfast, read for a while, take a nap, clean the house. And that is exactly how my day went, except that between the nap and the house cleaning, there was the small matter of the house fire. Fortunately I'm fine and the cats are fine and Bss and the kids are still on vacation, and we really didn't lose much more than a few toys and things that happened to be in that room.
This happened in a one of the rooms that I'm not using right now to save power. The door to that part of the house was closed. I was sleeping on the couch, when I heard breaking glass. I thought it was one of the cats knocking something over, so I got up to check the kitchen, and then I smelled smoke. So I opened the door to check it out, and was almost knocked down by a huge cloud of black smoke. I could just see the fire through the smoke. In just a few seconds the entire downstairs was filled with smoke.
So I called the fire department so that they could come put the fire out. It only took about six phone calls by me and five by my neighbors to get them to understand where to come. So almost a half-hour after I first called they finally arrived and put the fire out. There really needs to be a better method of addressing houses here. If someone here had been having a heart attack or stroke or been cut badly, they would have died before help arrived. If you are a free market-loving libertarian like me, you will no doubt not be surprised that it is easier and faster to get a pizza delivered here than the fire department. Once they arrived, the fire brigade was very fast and professional and had the fire out in just a few minutes. One of the firemen was even a student at the
university
.
So then I got to clean the house, almost like I planned. When the smoke cleared, the entire downstairs was covered in this black stuff from the smoke. You can see the outline of where the carpet was before I took it up. These pictures are from part of the house furthest away from the fire. The rooms closer to the fire were even more thickly covered.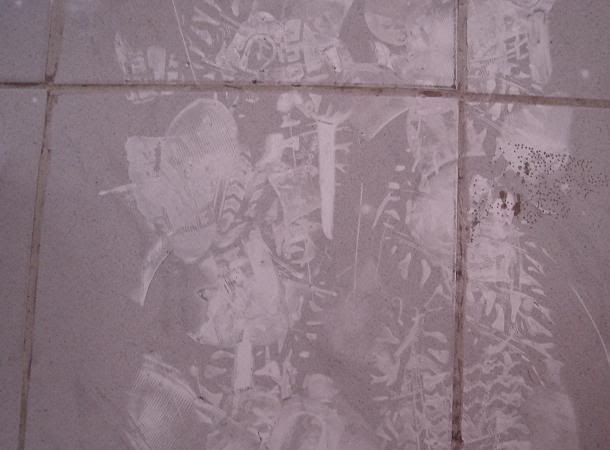 Working together, the watchman for our villas and I got the living room and dinning room cleaned in only about six hours, so that only leaves five more rooms for tomorrow. Fortunately I have two more people coming tomorrow to help with the cleanup.
If you have been reading this blog for a while, you may be thinking that this sounds familiar. Yep,
this is the second electrical fire
that we have had here this year.