I think that is is the roundabout that
nzm
was commenting on in the
last roundabout post
. It doesn't have a name that I can tell, but it is at the intersection Jam'ia and Hazzaa Bin Sultan Streets, very near the entrance to the Maqam Campus (which is the girls campus) of the UAE University.
It does look like a glass house on a pedestal.
With a dead forest in it.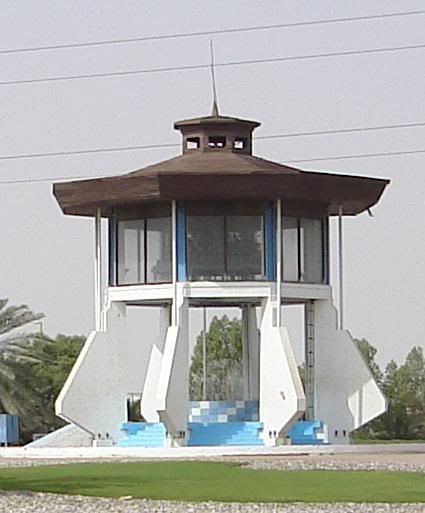 A little closer, it looks better, but the glass is so dirty, it is difficult to tell. I had never noticed before that there is a ladder going up to the glass house area and then within that up to the look out thing on top.
Without climbing the ladder, this is the closest that I could get to the plants. I can't tell if they are alive or fake.
The fountain sort of gets overwhelmed, but it is there.
There is also what looks like a sprinkler from above, but I have never seen it working.
One last thing: I really like the landscaping on this one, especially the balance of the rocks and the grass. The assymetrical border is a nice touch too.