I really expected this to happen back in October, so I guess that I should be glad that it didn't happen until later.
Last year we were concerned about how little exercise the kids were getting, especially when it was so hot, so we bought a trampoline from Carrefour. Since that house was so big, we actually had an empty room that we put it in so that the kids could use it inside.
Then when we moved after
the fire
, we didn't have a room in this house to put it in, so in October we set it up outside, next to the house. It quickly became a very popular spot with all the neighborhood kids, which was great. Our kids got to see and talk to Emiratis like never before. It was a rare moment when there were not several kids out there jumping away.
It also let Bss meet the neighborhood mothers in a way that she never got to before. They would frequently sit out there in the shade, drinking coffee and watching the kids, even though they really couldn't talk (one little girl did some translating sometimes, but mostly they just enjoyed being together).
I was a little reluctant to put it out there, since we couldn't see it from inside, but it seemed to be going really well. Then, on the first day of Eid, we walked out to do some jumping and...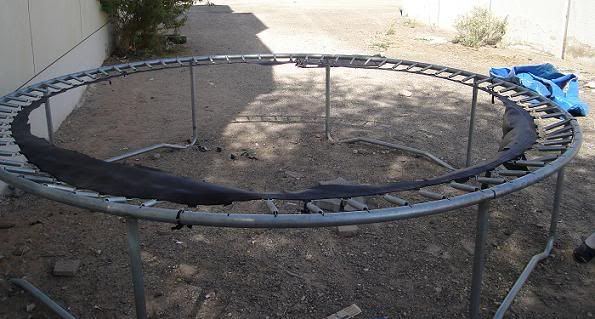 someone that night had taken a knife and cut the center of the trampoline out.
So, now I'm not sure how to take this. Is it just random vandalism like would happen at home? Someone expressing their displeasure with something we did or that they didn't like the Arab kids playing with ours? Someone upset with America? Regardless of the motivation, it is pretty upsetting.